How Call in Studio Works / FAQ
Using SMS Queue: How Can I Get More Callers to My Show?
Shows with a large following generally do not have trouble getting callers to their shows. Recording or broadcasting your show at a regular time can let listeners know when to call in, or posting a call-in number on social media when you're taking calls — as long as you have a sizable audience — can generate the call volume necessary to perform your call-in show. But what about shows that may have a modest following, but not the volume necessary to generate enough call-ins? Or want to record a show at irregular intervals or times?
SMS Queue allows you notify potential callers that you're taking live calls when you start your show, inviting them to call in and allowing you to generate the call volume you need.
Here's how it works: your audience can send an SMS text message to your call-in number at any time, and the next time you start your show session, those who texted in will receive a text message that your show is now taking calls. When they call in, the text of their SMS message will be displayed with their call information.
To configure SMS Queue, go to My Shows, click on the show you wish to configure, and then select the SMS Queue tab. For option 'SMS Limit,' select how many SMS text messages you wish receive. When your 'Incoming Count' of text messages is reached, receiving new SMS message will be paused until you reset your Incoming Count (which you can do on the SMS Settings page or automatically reset it when you start your next show).
Incoming messages will appear under New Messages. If you've selected 'Auto-Queue New Messages' in your SMS settings (the default and recommended option), when you start your next show, these messages will automatically be moved to your SMS Send Queue and will receive a notification. You can opt to perform this task manually if you desire. Messages are grouped by number, so multiple texts will appear as one message in your queue:

For individual messages, you can also select to queue the caller 'as Guest', which means when that number dials your show's call-in line, they will be treated as if they called your guest line (but will still dial your call-in line).
When you have numbers queued for notification and you go to start your show, the Start Show screen will display this information and you can select notify your current queue (or Skip for this show session). See: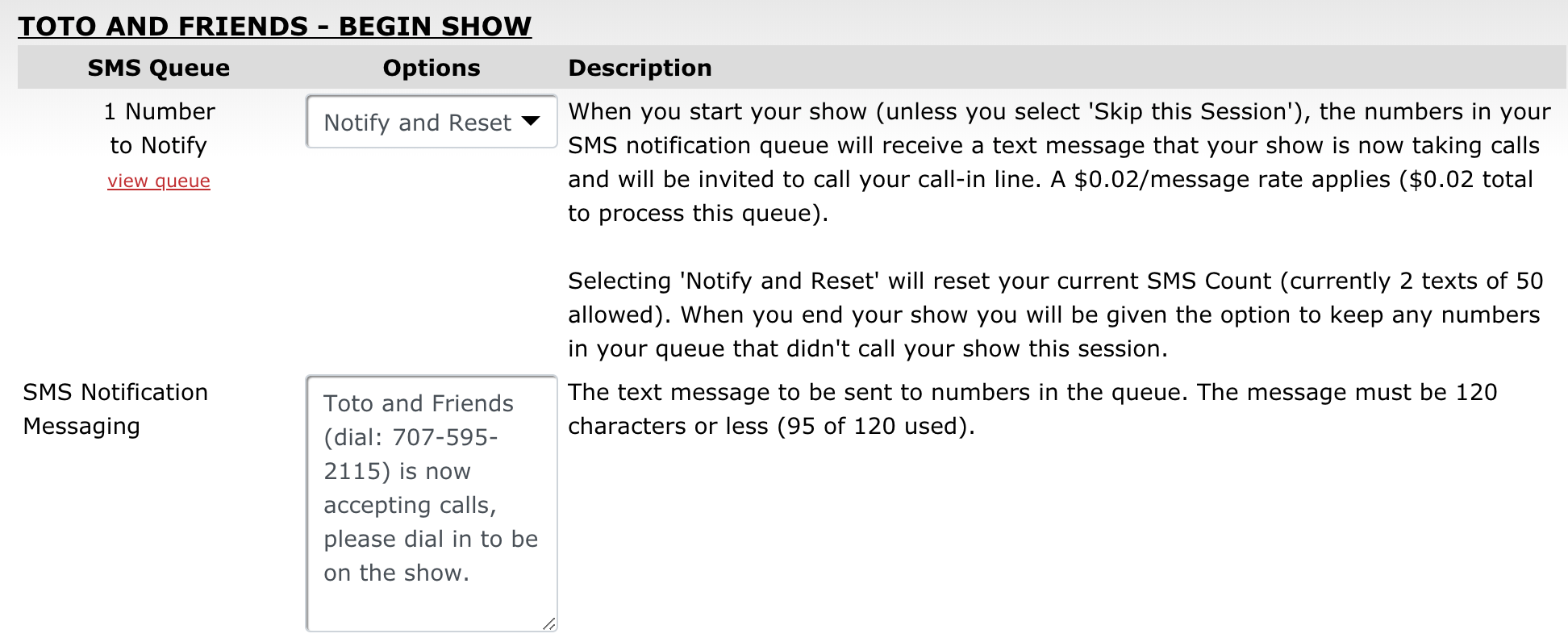 Starting your show will notify all numbers in your queue that you are now accepting calls:


When callers dial into your show, their SMS message(s) will be displayed with the call:


Finally, when you end your show, you will be given the option to clear your queue, or remove numbers who only called in during your show session (or only called in and made it 'on air' with the Host). See: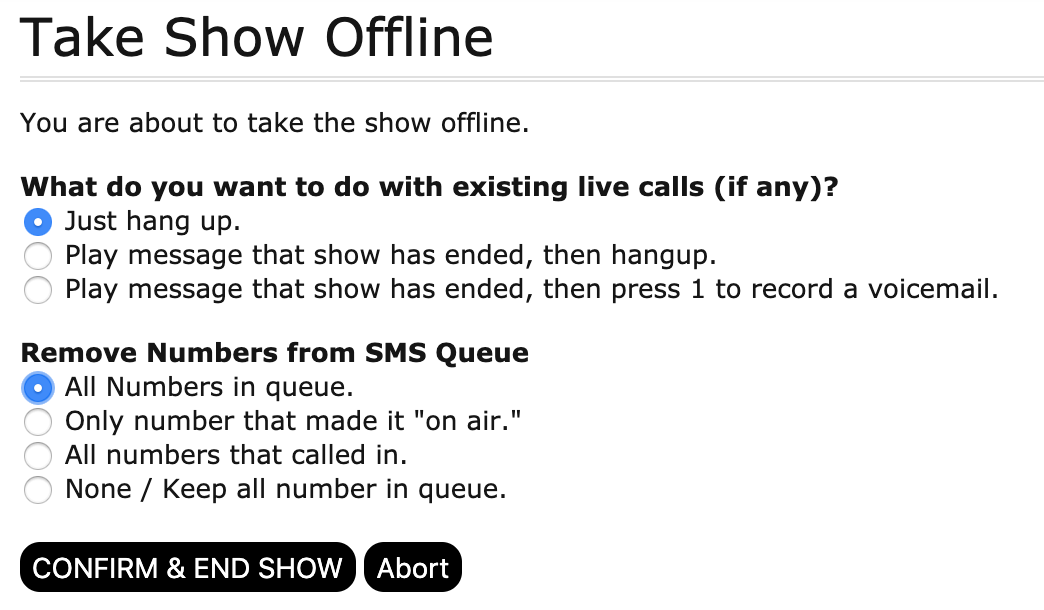 PREVIOUS QUESTION
• WebRTC: Connecting Callers Through our Web Interface

NEXT QUESTION
• What is Mix-Minus, and Does My Mixer Board Support It (Or: Is there a Mix-Minus Software Solution)?