How Call in Studio Works / FAQ
Does Call in Studio Support Call Screening? What is Auto-Screening?
Yes. Calls can be screened in the traditional way, by a human (you provide the human), who will talk with callers off-air, put in notes about the call into our Web interface, and those notes will appear on the host's screen who can then select which callers they wish to put on the air through our Web interface.
We also offer an auto-screen option, where callers are asked to record a brief message about the subject of their call. That message is transcribed to text using Google's speech-to-text engine and is entered to the call notes of the call.
For instruction on inviting another user to screen your show or meeting, click here.
Below is an example of the call screener interface: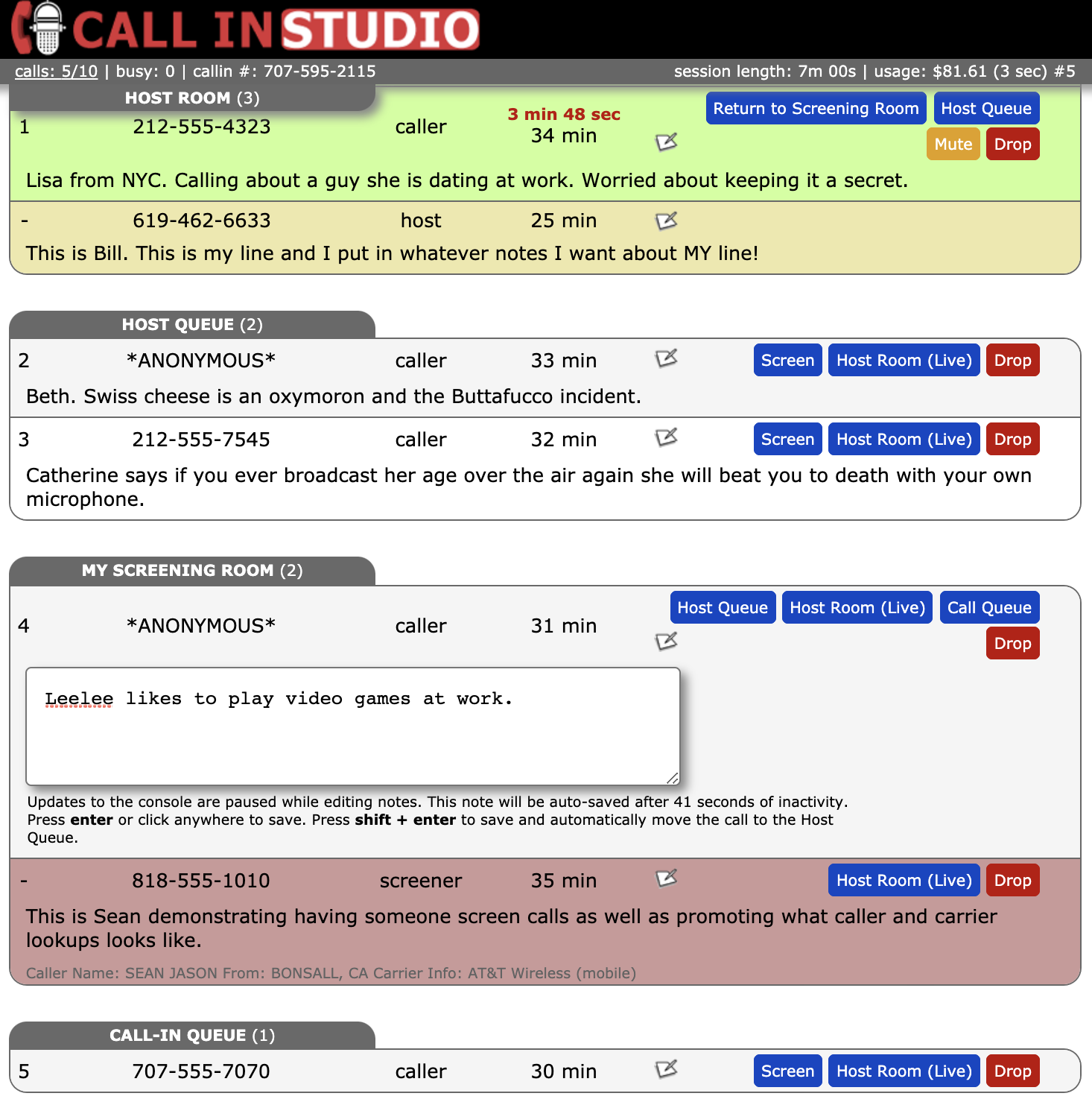 Once the screener connects to Call in Studio by dialing into the host and screener line and authenticated as a screener, they are placed in MY SCREENING ROOM, which is between the HOST QUEUE and the CALL QUEUE. When no other callers are being screened, the screener will hear audio from the host room (i.e., the live show or meeting) and will be muted.
When a new call comes in, it is shown in the CALL QUEUE toward the bottom of the screen. The screener can press the SCREEN button, which will move the caller into MY SCREENING ROOM and the screener and that caller will be placed in a private conference room. The screener may talk to the caller and enter notes about that call into the Call in Studio call interface. When done, the screener will click the HOST QUEUE button, which will place that caller into the HOST QUEUE room, above the screening room.
If desired, the screener may also move calls to the CALL QUEUE room (below MY SCREENING ROOM) by clicking the CALL QUEUE button. The screener may also place himself live on the air by clicking the HOST ROOM (LIVE) button, which will move his call to the HOST ROOM (once in the host room, the screener may return to MY SCREENING ROOM by clicking RETURN TO SCREENING ROOM). The host or the screener may return a caller or guest from the HOST ROOM to MY SCREENING ROOM by clicking the RETURN TO SCREENING ROOM button.
PREVIOUS QUESTION
• What Does the Host's Call Management Screen Look Like and How Does It Work?

NEXT QUESTION
• What is the Difference Between a Call-In Line and a Guest Line?